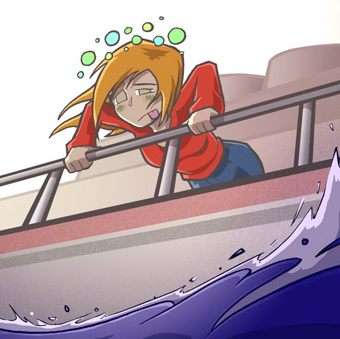 I forgot to mention in my brief post about our trip to the Great Barrier Reef just how horribly rough our voyage was out there. There were such high winds in the forecast that there was speculation beforehand that the trip would be canceled. It wasn't, but I can't believe we made it out there in one piece.
The boat had two levels and was mostly indoors. It's set up to be a nice cruise; they have tea and coffee when you board, and then we hook up to a pontoon during the day, where there was a pretty fancy and elaborate buffet lunch (with cold salads, lasagna, sushi, curried eggs, all kinds of things). The boat and the pontoon stayed tied together all day, and you could go back and forth between the two. The boat continued to serve snacks, ice cream, etc., and when we got back on there was fresh fruit and cheese, crackers and summer sausage.
I mention all this to point out that this wasn't just some floating bus.
But the luxury aspect, to the extent there was one, turned into wacky farce when the boat became so violently tumultuous that people could not stand up or walk around without being flung into walls or other people. It was as if the world was ending. The staff continued to try to do their normal routine, walking around to sign people up for activities, smiling and acting like this wasn't the worst experience everyone had ever had. Before not too long, the staff's job turned solely into providing people with white paper bags and escorting them to the back of the boat. By about halfway into the trip, the bottom front of the boat where I'd stationed myself was almost entirely empty ... everyone was at the back of the boat, throwing up, lying down and getting drenchced with sea water.
I didn't get sea sick; I never have.
The ride back was better ... good enough, in fact, that we could play a few rousing games of Spoons, Asshole and Crazy Eights.