My class (including Erika and Suzanne, pictured) went to New York yesterday for what turned out to be a fantastic day, one that offered a glimpse of what it might feel like to be important.
We got snazzed up in business attire and boarded four private cars on the train, and headed to Grand Central, from which we took a short walk to the Yale Club for lunch.
The Yale Club
is restricted to Yale alumni and faculty (and, I believe, current grad and professional students) and still holds fast to old-fashioned dress codes. Our lunch was fine, especially considering it was made for more than 200 people. Our guest speaker was
Christopher Granger
, Senior VP for development at the NBA, and a '99 Yale SOM grad. He was a great speaker.
Then we broke up into small groups and visitied the companies for which we had signed up several weeks ago. I chose Time Warner, and from what I can tell, our group ended up with the best deal -- the 20 or so of us got to sit around a conference table with the CEO,
Jeff Bewkes
, for more than an hour. He's a Yale undergrad alum, which may explain why someone of that level would bother talking to us. He talked about the company and the challenges for media ahead, which are aplenty, and took our questions. We also got to talk with a panel of four other execs from other Time Warner divisions, all of whom had MBAs.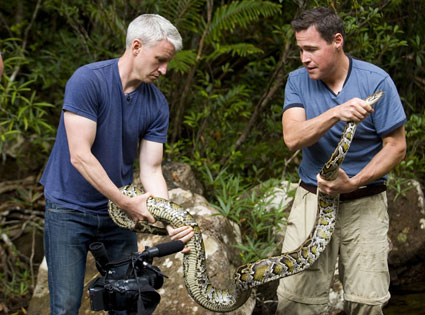 On the way out of the building, my group's elevator stopped, the doors opened, and there was Anderson Cooper (pictured, along with his arms). He looked at the full elevator and basically turned around and scuttled away. Thus I believe us to currently be best friends. The building was amazing; no cameras allowed, though.
After that, we scooted to the New York Stock Exchange to have cocktails and appetizers; that was also amazing, and there were also no cameras allowed. Sorry!
My buddy Mike and I had some edamame cakes somewhere, then became witness to a violent and bizarre exchange between our cab driver and a limo driver who was blocking the street. They exchanged words and projected drinking cups at one another; then a chase ensued, and Mike and I got out several blocks from our destination. I have no confidence that both drivers are alive and uninjured.
Our destination: The Brass Monkey (pictured: Mike, Mark and Suzanne), where we met up with classmates. Then, finally, we took what seemed like the longest train ride ever back home. All in all, a super day in New York City for this starstruck little Texan.